(republished from blog.bridgetteraes.com)
This is the time of year where we are told what the most wearable trends for fall are. However, all of these articles still beg the question: Are they wearable for me?
I took a look at of these supposed wearable trends and see if they are wearable for you.
Maxiskirts with Cozy Sweaters
Glamour.com considered this as one of their five wearable looks for fall saying that it could become your new weekend look instead of jeans and a sweater. Kudos to you Glamour for trying to make this the new "go to" look for the weekend, but I don't think it is exactly wearable. While the belted look on the left is a bit better, both looks fail for anyone who isn't tall thin and lanky. Plus, while running weekend errands do you really want to be dragging a big ol' skirt on the ground?
The Choker
The Choker is a wearable trend, for sure, especially according to BizChickBlogs.com. However, it still isn't wearable for everyone. How do you know if it is right for you? Consider the length of your neck. If you have a short neck, it's not your best choice. And, how do you know if you have a short neck? Drop your chin to your chest. If it is easy to rest your chin on your chest your neck is short. Medium effort? Your neck is medium in length, and if it takes struggle to get your chin to touch your chest your neck is long. The longer your neck the more suited you are for chokers.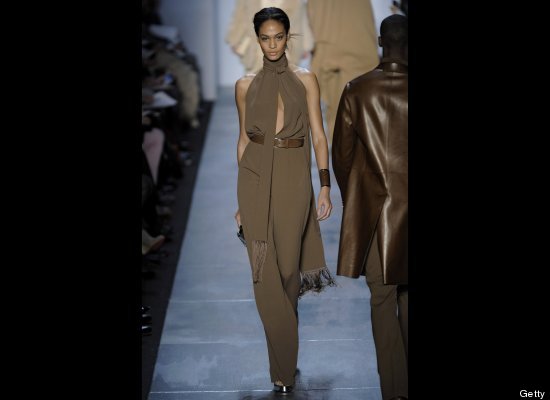 Wide Leg Trousers
This is another highly wearable trend that was spotted in Huffington Post's 10 most wearable trends. However, this trend also has some conditions. If you are short and/or have stubby legs, this trend will just make your legs look shorter. Reconsider if you have any of these features.
Neon French Manicure
Fashionologie.com cited the neon French manicure as trend for fall. Hmm, I guess it is better than a full on neon manicure. However, whether or not this trend is wearable is up for debate. Yes, neon is hot for this fall, and this is a way to do it on a small, innocuous scale, but is it right for everyone? Not really. I think the more creative your profession is the better. Yet, I'd be a little uncomfortable if my doctor came into my appointment wearing neon nails. Just be cautious and consider your lifestyle.
Feathers
It's all about feathers this fall. I've been seeing them at the stores and I just read about them on Stylecaster.com. While this trend is whimsical and fun, on the wrong person, worn in the wrong way, feathers can make you look like you're wearing a chicken suit.
This trend can be bulky, so it's best to choose to wear feathers in places where you don't have a lot of your own bulk. Additionally, sometimes less is more and, in this case, a feather detail can address the trend just as well as an entire feather outfit can.
And, don't forget about our 9th Anniversary Promotion we have going on for the month of September!!!
The $99 Power Hour Closet Edit Celebrating Bridgette Raes Style Group's 9th Anniversary. Click here to find out more!
Bridgette Raes is the president of Bridgette Raes Style Group, author of the book Style Rx: Dressing the Body You Have to Create the Body You Want and a sought-after spokesperson, style expert and writer for many media outlets including CNN, Good Morning America and Real Simple Magazine. She and her Style Consultants are available worldwide for consultation, in-person or virtually.